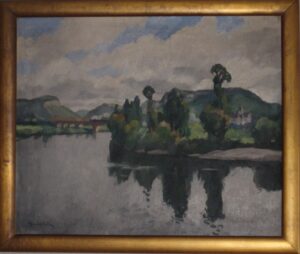 Jean-Pierre put down his wine glass, pumped his fist up and down like a piston close to his chest, and exclaimed, "Génial . . . splendide!" his eyes twinkling in delight. My husband Jim and I were seated for a lazy Sunday afternoon meal at his dining room table, he was at one end, his wife Agathe the other, and across from us sat their daughter Violette and son-in-law Gérard.
Five days earlier we had to get off our loaded bikes and push them up the final mile of a rainy, hilly 46-mile slog in the rolling hills to the east of the Rhone River. It was another "coup de grâce" day, what I called a day where the final stretch of cycling was the worst of the entire day's ride. The very, very, very long driveway to our host's farm was steep, rocky and, thanks to the day's rain, too muddy for us to pedal without falling over. When Violette and Gérard saw how banged-up we were, rather than standing around making introductory small talk (as usually happened in our hospitality group), they promptly led us through their ancient kitchen and up a creaking staircase in their 200-year-old farmhouse to the bedroom where we'd spend the night. It had a comfy bed, and after showing us the nearby bathroom, they left us alone to recover and freshen up. It had been seven days and 250 miles since we left our home exchange in Provence and every day the weather had been a challenge, pretty much either too hot or too wet.
Later, over dinner, they told us we were only their second guests since they joined our international cycle touring group Warmshowers, and invited us to stay a few days, enjoy their farm and check out their region, the Isère. Alas, we told them we had to make it another 35 miles, to Lyon the next afternoon to make the connection for our next home exchange. Immediately Violette replied, "Lyon! Why, we have lunch every Sunday at my parents in the Third Arrondisement. I'm sure they would love to meet you. How about meeting up next Sunday, there's a special summer marché, we could meet, shop and then all dine together after. Will you be settled in by Sunday?"
Such generosity required an especially nice gift and we had already learned the hard way it's not easy to choose gifts for French hosts. First comes the challenge of being in the right place at the right time to even buy the right gift. A typical cycle touring day for the two of us is 35 to 55 miles of cycling over four to seven hours, with stops. We can't buy some delicious cheese at 10:00 a.m., not in the summer we can't. If we  try to protect it from the heat by burying it in our panniers it'll be crushed, and if not, after six hours likely it'll be a soupy mess. Ditto flowers, charcuterie, desserts. Now if we just happen to pedal past a store within a half hour of our destination, why we're in like Flynn. Just remember, though, Flynn is an Irish name, and there are a lot more Murphys than Flynns. Murphy's Rule rules, especially when traveling the world by loaded bicycle. 
Most of the other countries we traveled in, so far, a bottle of wine is the sure bet choice to bring to a Warmshowers host. But not in France. Trying to pick out a bottle that will be a hit is a high bar. Chances are the hosts will smile upon receiving it, but the smile will have a grimace on the edges of the mouth as they turn and put the bottle on the counter and then serve what they had already planned for the meal. 
Next morning we said goodbye to Violette and Gérard, agreeing to meet the following Sunday morning, and took off for our next home exchange. We were looking forward to staying put for awhile and exploring Lyon. After being let into the home by the maman of our exchangers – très chic in a Chanel-esque peach colored two-piece suit – we discovered a note on their kitchen table welcoming us, a bouquet of flowers, and a bottle of red wine. Intrigued, after unpacking Jim looked up the vintner on the internet, "Anne, do you realize that bottle of wine is in the three figures?!"
"What?" I exclaimed, "Yowza, what are we gonna do with that?" We both knew there was no way either of us would ever have known of or purchased such a bottle. 
Ever the practical one, I knew even if we had it with some extra special meal Jim cooked, it'd be wasted on us. So why not share it with someone who could appreciate it?
"Jim," I suggested, "Let's use the wine for Sunday's gift to Violette's parents?" 
"No way," he replied, "That's cheating." 
"It's not cheating," I insisted, "It's sharing the wealth. That bottle is too good for the two of us."
After several hours at the marché Jim and I followed Violette and Gérard into a massive, 1950s-era, eight-story apartment building. Jean-Pierre open the door, "Bienvenue!" he exclaimed and immediately embraced me, planting a kiss on each cheek, then the same for Jim. A retired science professor, he was a slight man in well-worn clothes with oversized hands, ears, nose and glasses. It was hard to ascertain his age, his hunched shoulders belied his rich brown hair. Agathe, was far more reserved, and done up in the typical French woman-of-a-certain-age coiffed ensemble, even though she spent much of the afternoon hard at work cooking and going back and forth from a kitchen I never did get to see.
Their apartment on the seventh floor was a combination of old and new France. It had none of the great woodworking or details of a Haussmann building, but the floor-to-ceiling windows facing the tree-lined street filled the spacious rooms with light. The study, living and dining rooms were all furnished with undistinguished Louis XV furniture, in colors of gold and brown and yellow, with blue accents. The walls were beige and the floors were herringboned blonde parquet. 
Sunday dinner was a pleasant and leisurely affair, five courses over three plus hours. Aperitifs and appetizers took almost an hour, commencing in the living room before moving to the study. "Zut alors!" exclaimed Jean-Pierre when he discovered Jim shared his interest in geology. He and Gérard immediately led Jim, drinks in hand, to the study to share his specimens and extensive library, and we three ladies followed with the appetizers. We poured over Jean-Pierre's books and rocks as we munched on Agathe's delicious grattons (crunchy pork) and radishes while sipping a refreshing kir. Agathe disappeared from time to time, attending to the food courses, with an occasional assist from Violette, but replied, "Mais non!" when I offered to help, adamant that I was a guest, therefore Not Allowed in the Kitchen! (Darn, I would have loved to have checked it out. Jim, too, for that matter.) The main course was ready sooner than Jim was ready to tear himself from the study.
Jean-Pierre didn't open our wine until just before Agathe served the main course. After sampling it, rather than passing the bottle, he got up and went around the table, lovingly pouring out the liquid gold equally into etched glasses. As we all savored the coq au vin and sipped the wine it became clear our bottle of red was an incredible hit. It exactly complimented Agathe's chicken. Jim and I could tell they assumed we were far more knowledgeable and sophisticated than we deserved.
I marveled at how the four of them were able to savor and nurse that wine, making it last through the salad and cheese plates that followed. It took us two hours to consume those three courses with one glass of wine. Next came a popular local dessert, a rose praline gateau, then a chilled digestif, Charteuse, made by monks not far from Grenoble. (Hmm, I wondered how far it was from Lyon, maybe close enough for a day trip?) Finally, Agathe brought out a tray of very strong coffee in tiny demitasse cups. When we finally got up from the table I turned and, reluctant in front of our hosts to take a photo to document this incredible meal, I made a mental note of the dining room table, littered with dishes waiting to be cleared, crumpled napkins, and that empty bottle of exceptional red wine.