Onsenland
We were hot, sweaty and frustrated, biking north from Sapporo, and I couldn't find the campground. Our Touring Mapple atlas of Hokkaido (the northernmost of Japan's big four islands) was the go-to map for foreigners. The icon was clear, and my Garmin confirmed we were where the tent was but – no campground. Didn't exactly instill confidence if I couldn't successfully use the map first day out, sigh.
"I'm sorry, Jim," I whispered, "it should be right here. The next one is another 10 miles north along this same road. We can call it a day and find a place to free camp or we can ride
Odd, I thought, if it weren't for the campground icon we would never have known this place was a campground. There were no signs, no gate, no check-in office, announcement board, pool, just a few RVs to persuade us it really was a campground. It was a tidy, small, flat grassy tract of only a dozen sites on the edge of a wooded town park. Almost half the sites were already taken, so we pulled into an empty one in between two young families.
It was fairly obvious we weren't from around here, and within minutes a young woman came over just as we were setting up our tent, to welcome us, ask where we were from, proudly volunteered she had spent a Study Abroad year in the U.K., and pointed out to us a 2-story, clean modern building across the field as the place to register for the campground. It didn't look like a campground host building but Jim suggested, "Why don't you head over and pay the fee, I'll finish setting up the tent and get out the cooking gear. Continuing our long-ago pattern of me dealing with the people while Jim focuses on equipment, I walked across the field and entered what turned out to be a resort of some sort. The young male concierge in crisp suit and tie told me, in so many words, that our $10 campground fee included use of their "facilities," but only after 7:00pm and before 8:00am. Only guests staying in the building could use them during the day.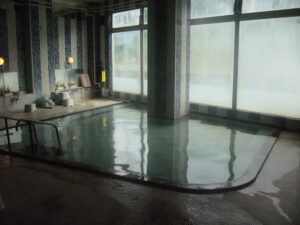 Back I went to the campsite and told Jim about the odd setup while he cooked dinner. We returned to the host building at 7:00 on the dot, I was tired and wanted to go to bed early. We smiled at the concierge as we passed through the quiet lobby, a gift shop that seemed to specialize in locally produced products, then a mini-takeout restaurant. Next came a grand room covered with tatami mats and buzzing with guests eating and lounging at low tables while enjoying a cooling breeze from a wall of windows open to the park. We said goodbye at the sex-segregated (darn!) entrances, agreeing to meet back at the campground, whenever we had our fill of whatever the place offered? The ladies' entrance led me to a locker room with a wall of lockers, another wall of baskets in cubbies, with benches, vanities, and showers. I peered through a clear glass door and had to wait for my eyes to focus through a steamy haze. To say I was astonished is an understatement. It was a cloudy day, but an 8' by 8' skylight to the roof flooded the floor-to-ceiling beige-tiled room, and water glistened off every surface in the warm humidity. Two of the exterior walls were floor-to-ceiling glass windows, the bottom half frosted so no one could see in, the top half thick with moisture but still affording a view of the lush green forest bordering the campground. Six mini-pools, each with different colored water, each big enough for 8 to 12, and each a different temperature from very very, very cold to very, very hot, sat at the bottom of one of the exterior walls. A 6-inch-wide and4-inch-high ledge separated each pool, with the water spilling over the ledge and even flowing across the tiled floor. In the middle of the room was a bathing station, with 8 kindergarten-height faucets, individual mirrors, shower attachments, tiny pink plastic stools, round white plastic tubs. Next to each faucet was a tray with Costco-sized bottles of shampoo, condition, and body wash. "Where was I?" I thought to myself. "How could this be?" This, this?! Is a campground?! The place wasn't a resort, just a hotel and campground built around a natural volcanic water source. Onsen is the Japanese word for what we stumbled on. In much of Japan onsens are located wherever there is a thermal water source. Hokkaido, the northernmost of Japan's big four islands, is chock-a-block with thermal waters and onsens. On our first day of cycling we discovered the Japanese onsen.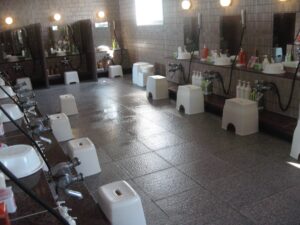 As I stood transfixed at the entrance, soaking in all the delicious details, a uniformed staff member came over to me and in an odd collection of gestures, made me to understand no shoes or clothes inside, undress and put all my clothes in a locker or cubby basket, that I must bathe, thoroughly, in the shower before entering the pool area, and no bathing suits allowed, to keep the water clean. 
So I stripped, showered, picked up a furnished 12" by 18" pink towel, stamped with the name of the resort, and went through the steamy glass door. I had to walk slowly and carefully, water was on every surface, crossing the tiled floor was like splashing through a puddle.
The room was filled with women of all ages, some in groups, some solos, some with children, some giggling teenagers. The older women ignored me but 2 little girls stood transfixed as I eased my sore body into a warm pool.  I smiled at them as I sunk in the water, letting out a rapturous sigh. They were startled and quickly returned to their mothers. It was a curious thing to be the only really different person in a place.
Already aficionados of hot springs, Harbin in Northern California being our favorite, I have a routine: back and forth, back and forth, in and out, in and out, between the hot, warm, and cold pools, how long depending on how well my body could handle the range of temperatures from a low of 55 degrees (seconds) to 105 (minutes). Oh, it was scrumptious, the perfect antidote to a hard day of physical exercise.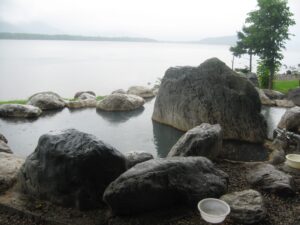 There was also a sauna with a built-in television behind a framed-in waterproof window showing soaps (Jim said the men's TV had baseball), and a steam room.
Most of the women had their own little plastic baskets with personal cleaning and grooming supplies, especially loofahs, both natural and synthetic. Some women are very modest, holding the long, thin furnished towel at their shoulders to drape down the front of their torsos as they walk around. Others wrap their hair to keep dry in the pools. And they take the bathing, both before and after the pools, seriously, very very seriously, scrubbing the bejesus out of their skin. Don't get me started on exfoliation, some ladies rubbed themselves and each other so hard and so long I thought they might literally erase themselves.
Two and a half hours later, even though we had biked more than 50 miles that day, I floated back to the campsite. We both slept well that night. In the weeks ahead we benefited from a daily soak, allowing us to recover more quickly from the rigors of daily cycling. Pouring over the atlas I became instantly familiar with the onsen icon – 
 – in the Touring Mapple Atlas. Though we set out on our five-week tour with no idea what an onsen was, or how ubiquitous they were, they became the central focus of my navigation and we managed to soak in one every day.